INTRODUCTION OF PRODUCT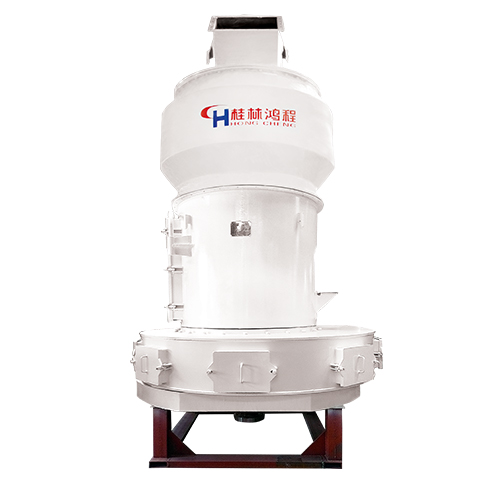 Calcium oxide is also called quicklime, calcined lime, and calcined lime. Calcium oxide is an inorganic compound. Most of its surface is white powder. The impurities contained in it are light yellow or gray. It is hygroscopic. After processing, it is widely used in metallurgy, building materials, cement, non-metallic minerals and other industries. There are many types of calcium oxide mills. Manufacturers will produce various types of equipment according to the needs of most users, and their production capacity and fineness are different, and the performance is also very different, and the price will also vary. Therefore, when users are purchasing equipment, they must choose equipment models according to their own needs.
1. It can be used as a filler, for example: used as a filler for epoxy adhesives;
2. Used as an analytical reagent, as a carbon dioxide absorbent during gas analysis, as a spectrum analysis reagent, high-purity reagents are used in the epitaxy and diffusion process in semiconductor production, the drying of laboratory ammonia and alcohol dehydration, etc.
3. As raw materials, it can be used to produce calcium carbide, soda ash, bleaching powder, etc., and also used in leather making, waste water purification, calcium hydroxide and various calcium compounds;
4. It can be used as building materials, metallurgical fluxes, cement accelerators, and fluxes for phosphors;
5. Used as vegetable oil decolorizer, drug carrier, soil conditioner and calcium fertilizer;
6. It can also be used for refractory materials and desiccants [1];
7. It can be used to prepare agricultural machinery No. 1 and No. 2 glues and underwater epoxy adhesives, and also used as a reactant for pre-reaction with 2402 resin;
8. Used for acid wastewater treatment and sludge conditioning;
9. It can also be used as a boiler shutdown protective agent, using the moisture absorption capacity of lime to keep the metal surface of the boiler water vapor system dry to prevent corrosion. It is suitable for long-term shutdown protection of low-pressure, medium-pressure, and small-capacity drum boilers;
10. It can react with water to prepare calcium hydroxide. The reaction equation is: CaO+H₂O=Ca(OH)₂, which is a compound reaction.
The HCQ series CALCIUM OXIDE POWDER GRINDING PLANT is a new type of milling equipment based on the R series Raymond machines. The modified product is suitable for grinding calcium oxide and other non-flammable and explosive materials with Mohs hardness below 7 and humidity within 6%. The fineness of the finished product can be adjusted arbitrarily between 39~180μm (80~400 mesh). HCQ series is an updated product of R-type machines (traditional Raymond machines).
Finished product size: 38-180μm
Production capacity: 2-13t/h
ADVANTAGES AND FEATURES                                                                                                                                                                                                                       

 Use the maintenance-free grinding roller assembly and a new spider-arm, the equipment has higher operating reliability and convenient maintenance.


 A new big blade is used to send a large amount of material between the grinding roller and the grinding ring for grinding.

 High output capacity: HCQ series is improved on the basis of the R-type grinding mill, the system is upgraded, the configuration is more reasonable, and the output capacity is higher.


 High classification accuracy: The classifier adopts a built-in large blade cone turbine classifier, and the particle size of the finished product can be adjusted from 80 mesh to 400 mesh.


 Large conveying capacity: The blower adopts a high-pressure centrifugal fan, and the air volume and pressure are increased, which greatly improves the pneumatic conveying capacity.
MILL STRUCTURE                                                                                                                                                                                                                                             
Structure of the HCQ calcium oxide grinding plant is mainly composed of base, central shaft frame, grinding ring, spider-arm, grinding roller assembly, central shaft, blade holder, blade base assembly, and cover tube. The grinding ring and grinding roller are casted from wear-resistant materials, and their contact surfaces with the materials are all subjected to wear-resistant treatment.
The power unit can adopt two modes: reducer drive and double belt drive. The classifier adopts a forced turbo classifier, and the conveying and feeding system can be selected according to different materials. The collection system can be a closed-circuit collection system with double cyclones and pulse dust collector and an open-circuit system with full pulse collection. The control system can choose automatic control and remote control modes according to customer needs.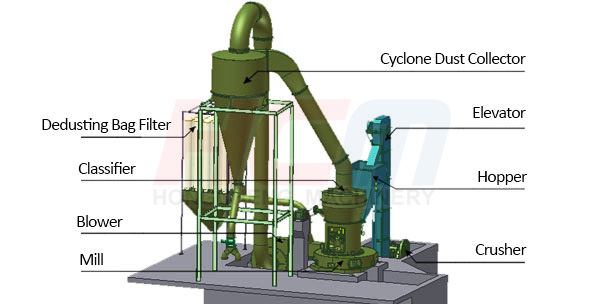 WORKING PRINCIPLE                                                                                                                                                                                                                                      
Material is broken by jaw crusher firstly into required size, which are carried by bucket elevator up to storage hopper, again by feeder quantitative into host cavity for grinding, host cavity support in the plum flower rack roller device rotation around the center axis, roller under the action of centrifugal force, horizontal swing outward, so that the roller compaction of ring, roller grinding roller rotation around at the same time.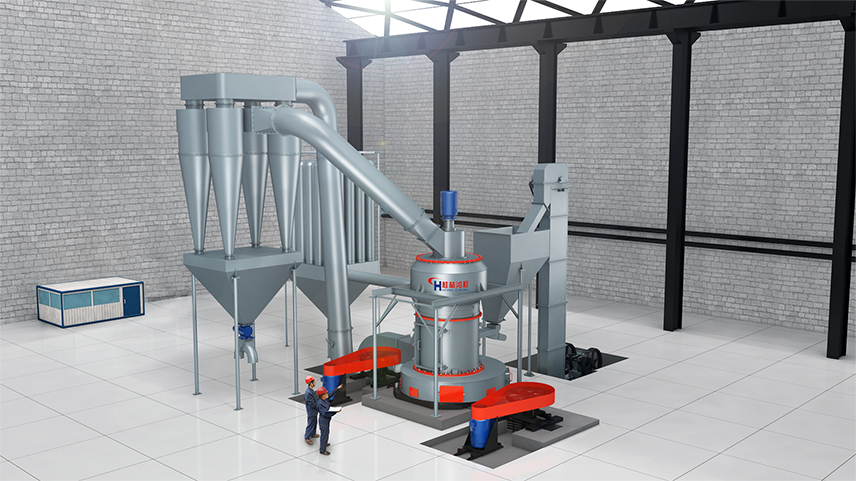 CALCIUM OXIDE POWDER PRODUCTION PROCESS                                                                                                                                                                                  
1. Crushing of raw materials
The large pieces of calcium oxide are crushed by the crusher to the fineness (15mm-50mm) that can enter the mill.
2. Grinding
The crushed small pieces of calcium oxide are sent to the storage hopper by the elevator, and then sent to the grinding chamber of the mill evenly and quantitatively by the feeder for grinding.
3. Classification
The ground material is classified by the classification system, and the unqualified powder is classified by the classifier and returned to the main engine for re-grinding.
4. The collection of finished products
The powder that meets the fineness is separated and collected in the dust collector through the pipeline through the airflow. The collected finished powder is sent to the finished product silo through the discharge port by the conveying device, and then is packaged by a powder tanker or an automatic baler.

TECHNICAL DATA                                                                                                                                                                                                                                           
Model

Roller Number


Roller Diameter

(mm)

Ring Inner 

Diameter (mm)

Ring Number

Main Motor Power

(kw)

Blower Power

(kw)

Classifier Motor 

Power  (kw)

HCQ1290
3
370

1170
1
75

75
15
HCQ1500
4
450

1500

1
110
110
22
Note:
1.The capacity is for limestone powder, and specification is just a reference. The actual production depends on these materials being processed.
2. The pulse dust collector is not a standard configuration and can be selected according to environmental protection requirements.
SUCCESSFUL CASES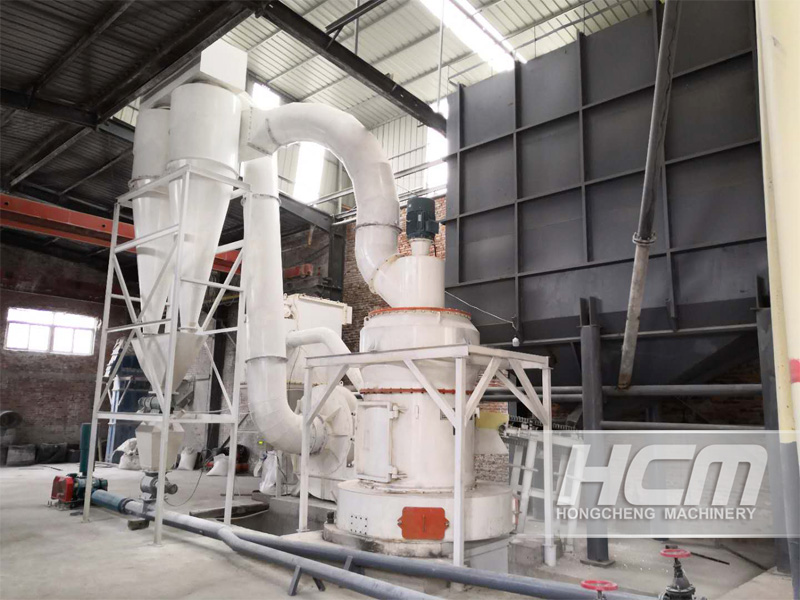 Calcium Oxide Case Of A Calcium Industry Company
   Equipment model and number: 1 set HCQ1500
   Processing material: Calcium oxide
   Finished product fineness: 200 mesh
   Equipment output: 9t/h
OTHER RELATED GRINDING  MILL RECOMMENDATIONS                                                                                                                                                                          
           POWDERY QUALITY CALCIUM OXIDE GRINDING MILL               SUPER FINE CALCIUM OXIDE POWDER PRODUCTION         CALCITE POWDER MAKING–HLMX SUPERFINE VERTICAL MILL 
           EQUIPMENT QUOTATION                                                             GRINDING MILL OPERATION LINE FACTORY PRICE