The applications of kaolin
1. Kaolin owns the special properties including plasticity, cohesiveness, certain drying strength, sinterability, and whiteness after firing, after being processed by kaolin grinding mill, the kaolin powder is the main raw material used for the productions of ceramic, construction and electrical porcelain, chemical corrosion-resistant ceramics, sanitary ceramics, arts and crafts ceramics and special ceramics, etc.
2. Kaolin with the features of whiteness, softness, high dispersibility, adsorption and chemical randomness, which is widely used in the paper industry as filler and coating for paper to increase the density, whiteness and smoothness of paper, improve printing performance and save papermaking costs.
3.  Used as a reinforcing agent and filler to improve the mechanical strength and acid resistance of rubber, improve product performance, and reduce cost.
4. As a coating for medicines, adsorption layer, additives, bleaching agents, detergents, cosmetics, pencils, pigments, paint fillers.
5. Used as a carrier for fertilizers, pesticides, and pesticides.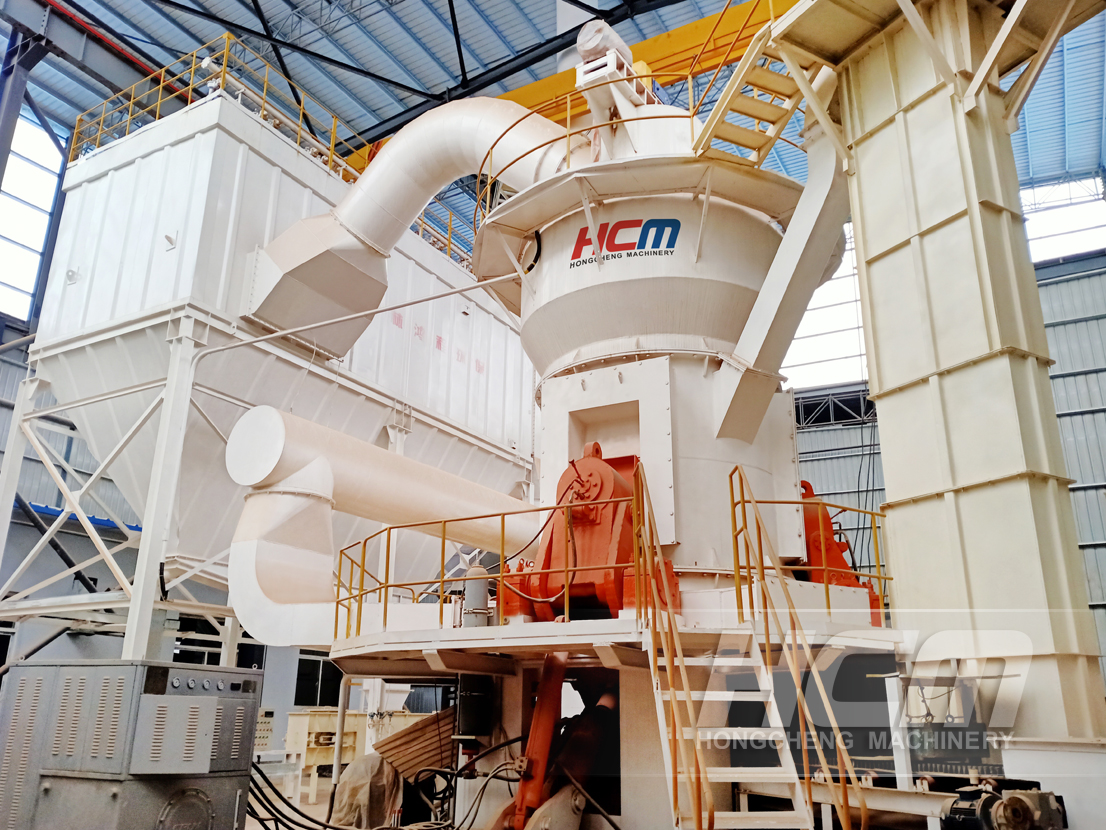 Kaolin Powder processing Equipment
HCM is engaged in the manufacturing kaolin vertical mill and processing of mineral ores for various industrial applications having domestic and overseas markets. We have a large number of domestic and international well satisfied customers.
[Model]:HLM Vertical Grinding Mill
[Finished product size]: 22-180μm
[Production capacity]: 5-700t/h
[Grinding field]: non-metallic mineral materials with Mohs hardness below 7 and humidity below 6%, this mill is widely used in electric power, metallurgy, cement, chemical industry, rubber, paint, ink, and food , Medicine and other production fields.
[Performance features]: this kaolin vertical bowl mill integrates drying, grinding, grading, and conveying, with high grinding efficiency, low power consumption, large feed size, easy adjustment of product fineness, simple equipment process, small footprint, low noise , Low dust, easy to use and maintain, low operating cost, low consumption of wear-resistant materials, etc. 
The kaolin powder processed by our grinding mill with the properties include:
·Excellent whiteness and Well dry strength
·Highly controlled casting rate and rheological properties
·Outstanding particle packing and associated good factory yields
Our service
Hongcheng grinding mill manufacturer focuses on customer-centric. According to the project grinding fineness, capacity, equipment installation area and other information, it reasonably mill selection and configuration plans, and provides a complete set of product services including experimental research, process design, equipment manufacturing and supply, organization of construction, after-sales service, supply of accessories, and skills training.