Guilin Hongcheng provides graphite grinding equipment including HC 1500 pendulum mill and HC 1700 pendulum mill, fineness of 200 meshes, yield up to 3 tons per hour.
HC 1500 pendulum mill is a popular type of graphite roller mill which is the development based on the proven R pendulum mill. Its technical indicators has been greatly improved compared with the R-type pendulum mill, with the features of high efficiency and energy saving. HC series mill is suitable for grinding limestone, calcite, marble, talc, gypsum, barite, fluorite, zeolite, manganese ore, ilmenite, phosphate rock, bentonite, starch, kaolin, etc., that are Non-flammable and explosive materials of Mohs hardness is within 7and humidity below 6%. The fineness can be adjusted arbitrarily between 0.18-0.015 (80-800 mesh).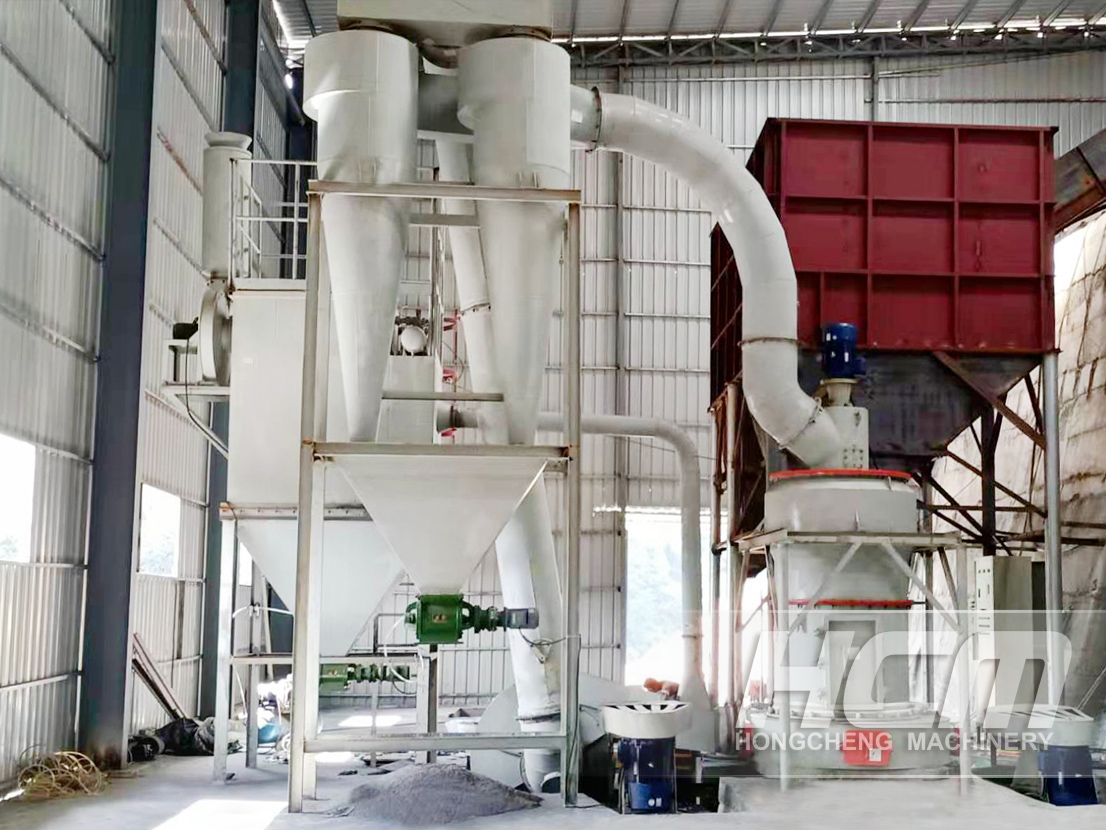 Max feeding size: 25-30mm
Capacity: 1-25/h
Fineness: 0.18-0.038mm (80-400 mesh)
Model

Roller

Amount

Ring

Inner Diameter

(mm)

Max

Feeding size

(mm)

Fineness

(mm)

Capacity

(t/h)

Total Power

(kw)

Weight

(t)

Overall Dimension

(mm)

HC1000

3

1000

≤25

0.022-0.18

1-6.5

85/101

14

8200×5800×10580

HC1300

4

1300

≤30

0.038-0.18

2-12

165/180

28

10800×10300×7800

HC1500

4

1500

≤30

0.038-0.18

3-15

242

38

12072×6558×9929

HC1700T

5

1700

≤30

0.038-0.18

5-20

264-314

38

12072×6558×9929

HC1700

5

1700

≤30

0.038-0.18

6-25

342-362

38

12072×6558×9929
 The Advantages of the Raymond Mill
·The advanced graphite grinding mill system use little energy, Raymond mills are highly-efficient, the roller mill costs less than the ball mill.
·Centrifugal force compresses the grinding ring to the grinding roller
Raymond mill is fitted with long-lasting components, Raymond Roller Mill Parts are easy to access.
·HC Raymond mill does not pollute the environment. Air is drawn into the blower via a return pipe situated on top of the cyclone collector
Hc1500 type pendulum mill is suitable for grinding non-ore materials.The Raymond Pulverizer comprises of a main unit, a discharging cyclone separator, a fan, an analyser, a powder cyclone separator, etc. This Raymond milling machines are more durable than many crushing machines. The low power mill is more efficient than the ball mill and offers a lower carbon footprint. Those who invest in Raymond milling machinery will save the initial capital investment.
Throughout its history the HCM Group has constantly evolved, responding to customers' needs through advanced technologies and superior service whilst reacting quickly to opportunities in new markets. HCM has built a global reputation for providing excellent grinding mills across a broad range of industrial sectors. HCM provide services to support its customers' on-going requirements for both product supply manufacturing and EPC service. We are able to support our customers on a wide variety of grinding mill projects.