Feldspar Application
Feldspar is an aluminosilicate mineral containing some alkali metals. Potash feldspar belongs to this feldspar group mineral. Potash feldspar is in red, yellow and white. According to its density, hardness, and the ingredients, it is widely used in industries such as ceramic blanks, ceramic glazes, glass, electric porcelain, abrasive materials, and fertilizers. Potassium feldspar can be used to make glass flux, which is also an optimum raw material for ceramic body ingredients and a main component of ceramic glaze.
Feldspar Raymond Mill
Feldspar Raymond mill is a popular ore powder mill. Compared with traditional mills, this equipment has increased production by more than 40%. The unit cost of electricity consumption has reduced up to 30%, which is a new environmentally friendly Raymond mill equipment developed by Hongcheng. It is widely used for grinding potash feldspar ore, marble, limestone, barite, kaolin and other ore powders. Raymond milling machines are more durable than many crushing machines. The low power mill is more efficient than the ball mill and offers a lower carbon footprint. Those who invest in Raymond milling machinery will save the initial capital investment.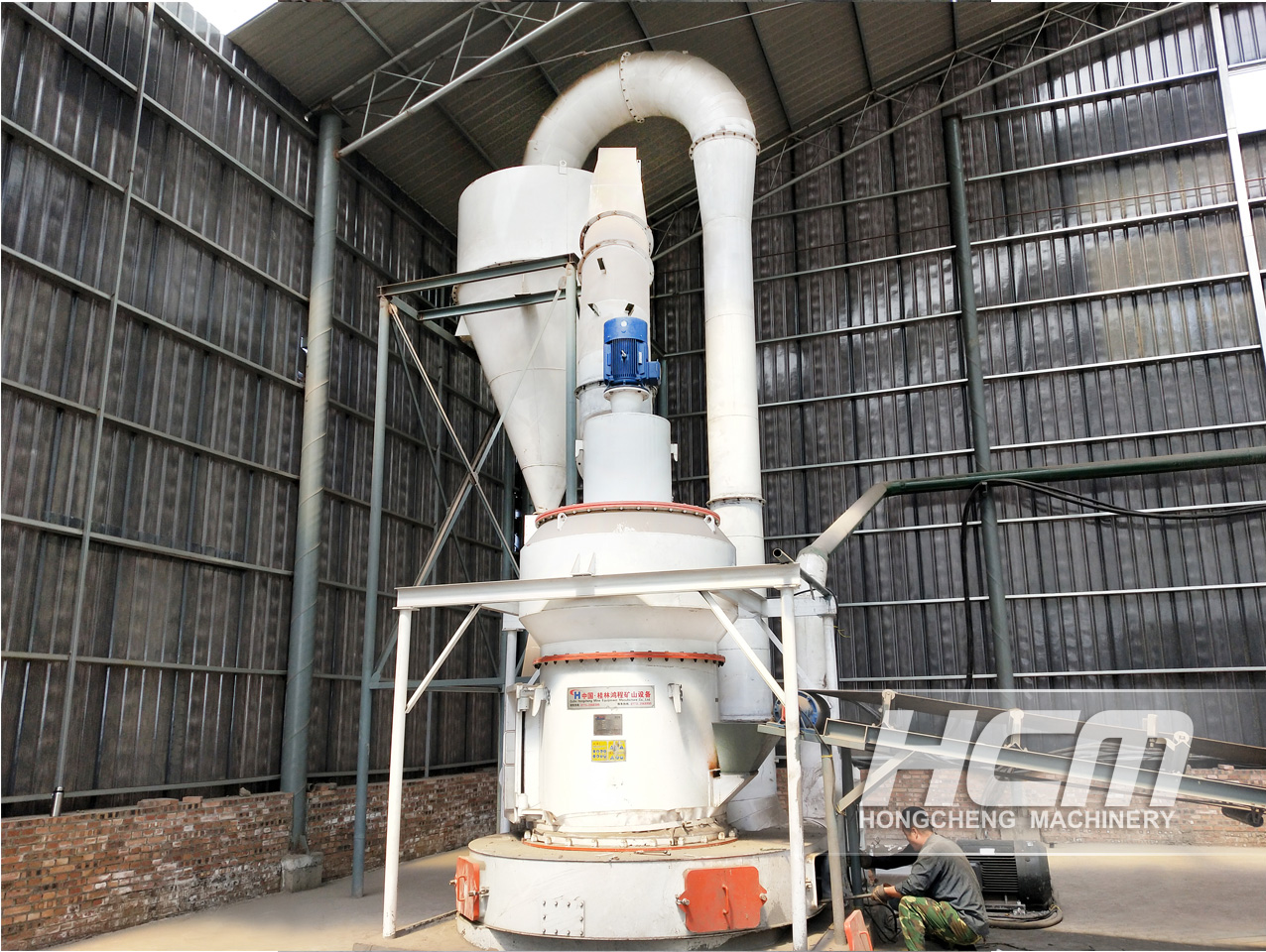 R-Series Roller Mill Parameter
Max feeding size: 15-40mm
Capacity: 0.3-20t/h
Fineness: 0.18-0.038mm
Model

Roller

Amount

Ring

Diameter

(mm)

Max

Feeding size

(mm)

Fineness

(mm)

Capacity

(t/h)

Total

Power

(kw)

Weight

(t)

Overall

Dimension

(mm)

2R2713

2

780

≤15

0.18-0.038

0.3-0.3

46

5.5

5490x3875x5530

3R3220

3

970

≤25

0.18-0.038

1-5.5

85/92

14

7676x4931x8345

4R3216

3-4

970

≤25

0.18-0.038

1-5.5

85/92

14.2

7676x4931x8345

4R3218/4R3220

3-4

970

≤25

0.18-0.038

1-5.5

85/92

14.5

7676*4931*8345

5R4121/5R4123

3-5

1270

≤30

0.18-0.038

2-10

165/180

28

11025x7300x11095

6R5127

6

1720

≤40

0.18-0.038

5-20

264/314

28.5

11025x7300x11095
Feldspar Raymond mill working phrases
Feldspar grinding mill process including crushing, grinding, classification, powder collections, it is mainly composed of the main mill, feeder, classifier, blower, pipeline device, storage hopper, electronic control system, collection system and other components. 
·Crushing-The materials are crushed by the jaw crusher into a proper size that meets the specifications.
·Grinding-The material are raised by the rotating blade and thrown between the grinding roller and the grinding ring, and the grinding and grinding effect is achieved by the roller of the grinding roller.
·Classification-The pulverized powder is blown by the airflow of the blower to the classifier above the main engine for sieving, and the coarser ones still fall into the main engine for regrind.
·Collection-The qualified powder will flow into the cyclone collector with the wind, and the finished product will be discharged through the powder outlet pipe after collection (the finished product size can be as high as 0.008mm).
Guilin Hongcheng service
Guilin Hongcheng has built a global reputation for providing excellent ore grinding mills across a broad range of industrial sectors. Guilin Hongcheng provide services to support its customers' on-going requirements for both product supply manufacturing and site-based turnkey projects. We are able to support our customers on a wide variety of grinding mill projects from concept to completion offering detail design, manufacture, installation and commissioning.