HCM offers a series of limestone grinding mill featuring flexible, cost-effective and efficient. Our HC grinding mills are robust and time-proven mills for soft to medium-hard mineral raw materials and industrial bulk materials . Equipped with a variety of innovative mills and classifiers, simple to adjust, they enable fast product change and we use them wherever our customers require a high degree of production flexibility such as in the toll processing of limestone, gypsum, dolomite, talc, petroleum coke, bentonite and quick lime.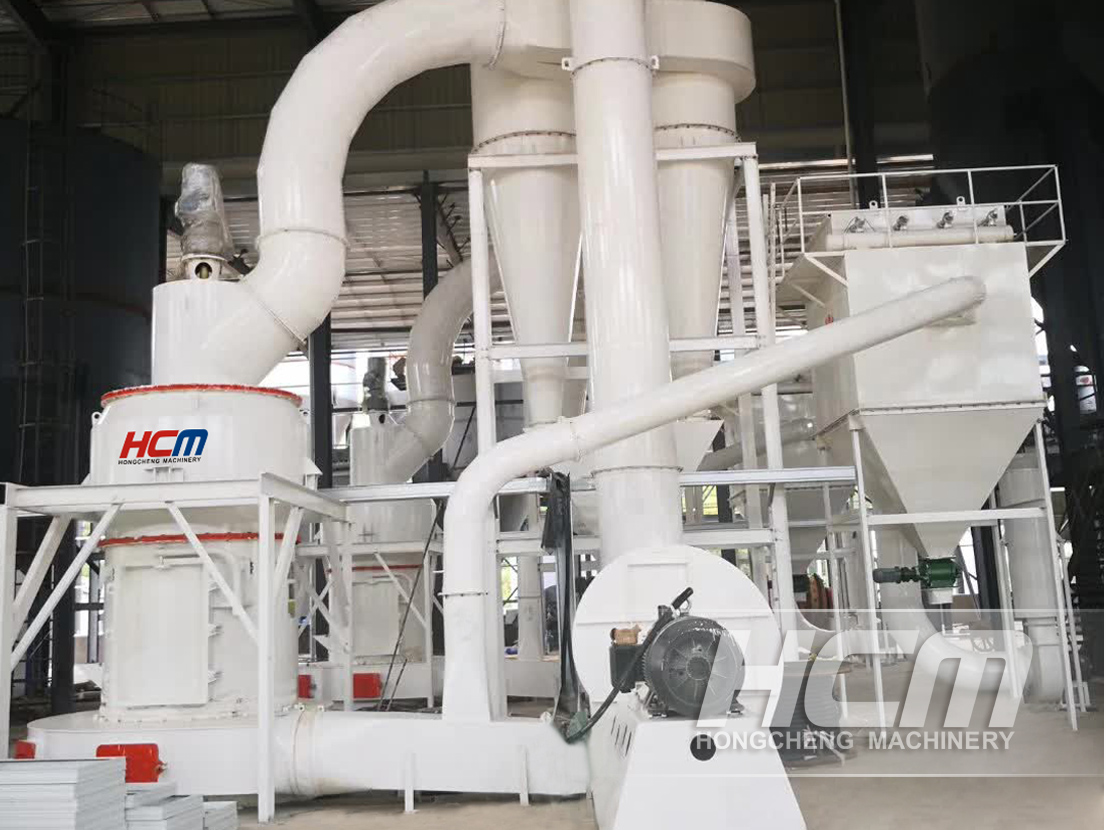 HC grinding mill is a specially developed machine for the production of super fine products. It is designed to reduce lumps of limestone to 80-400 mesh size. The capacity of this system is 1-25 ton per hour. The high throughput of air and effective air circulation allows very fine grinding, especially for products extremely sensitive to heat.
Max feeding size: 25-30mm
Capacity: 1-25/h
Fineness: 0.18-0.038mm (80-400 mesh)
Model

Roller

Amount

Ring

Inner Diameter

(mm)

Max

Feeding size

(mm)

Fineness

(mm)

Capacity

(t/h)

Total Power

(kw)

Weight

(t)

Overall Dimension

(mm)

HC1000

3

1000

≤25

0.022-0.18

1-6.5

85/101

14

8200×5800×10580

HC1300

4

1300

≤30

0.038-0.18

2-12

165/180

28

10800×10300×7800

HC1500

4

1500

≤30

0.038-0.18

3-15

242

38

12072×6558×9929

HC1700T

5

1700

≤30

0.038-0.18

5-20

264-314

38

12072×6558×9929

HC1700

5

1700

≤30

0.038-0.18

6-25

342-362

38

12072×6558×9929
This powder mill features an integrated classifier and newly developed Motor which reaches high circumferential speeds and saves around 30% on the energy consumption of conventional systems. This efficiency results in a higher output per hour to increase the grinding efficiency.
With an increasing emphasis on health and safety, and environmental issues surrounding the handling of ultra fine powders, more customers are outsourcing their entire powder processing production to us as one of grinding specialists around the world. Our negative pressure air circuit dust-proof installation preventing dust escaping to the environment. we follow standard operating procedures and have a dedicated quality control department.
HCM limestone Raymond mill can be operated in both continuous and batch processing applications. In the continuous operation. The mill is designed to provide high-capacities, the vibratory sieves ensure a consistent, high quality product production. And we offer customized mill model selection to meet our customers' specific requirements.